Coming Soon ...
Kiss Me Hello
Things have been tight since Sara Blakemore's husband lost his job, but the young couple's financial worries are over when Sara inherits Turtledove Hill, a vineyard on the northern California coast. Just after she begins renovation on the old farmhouse, Sara narrowly escapes serious injury in a mysterious accident. According to local legend the vineyard is haunted by spirits who won't tolerate outsiders, but when Sara discovers the journal of Turtledove Hill's original owner, she's led to a more concrete possibility: Someone haunted by the past wants the Blakemores to give up Turtledove Hill—and is willing to kill to make it happen. Things get even more complicated when Sara finds herself falling for the man who wrote the journal. It's not cheating if you're in love with a ghost—is it?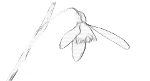 Sign up for the newsletter
to be first to know when Kiss Me Hello goes live!
Sign up to win a personalized ARC of Kiss Me Hello
http://www.lkrigel.com/2012/11/win-a-personalized-arc-of-kiss-me-hello/